Development Information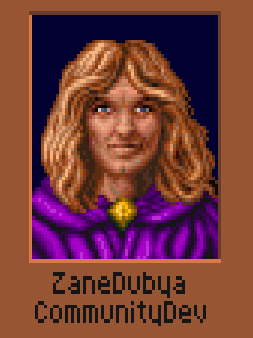 Hi, this is Zane! I am the developer of MedievaLands. If you see me in the game (my handle is ZaneDubya), please say hello!
I am a huge fan of the original games, which were created by Ybarra Productions for The Sierra Network (later renamed The ImagiNation Network). Like so many, I enjoyed the dungeon that seemed to go on forever, and fell in love with the welcoming Yserbius community. It was one of the first online 'third spaces' - a home away from home. MedievaLands is my remake of these favorite games from my childhood.
The MedievaLands game engine is written in C#, with the server running on .NET Core 6.0 LTS on Linux, and the client running on the FNA Framework on Windows and Mac. The total server/client codebase is approximately 146,500 lines of code, including 45,000 lines of map scripts transpiled from x86 machine code of the original game to C#.
The first release of MedievaLands took eight months to create and was released with support for Shadow of Yserbius on March 29, 2019. After a few months of furious bug fixing I spent seven months of focused dev time adding support for Fates of Twinion, and the doors to the dungeon of Twinion opened on March 6, 2020. I've been fiddling with the game ever since, spending weeknight and weekend hours to add new features and fix bugs. Including time time spent deciphering the Yserbius data formats and game mechanics, I estimate that I have spent more than 3,500 hours on the MedievaLands project.
My hope is that MedievaLands will be a fun adventure for new players and a welcome respite for returning players. You can always come home, although you may need to rebuild that home from scratch.
Credits (Yserbius)
The original Yserbius game was developed by Ybarra Productions, and was available on The Sierra Network between 1991-1996. I would be remiss if I did not mention the original development team of Yserbius - we should recognize their excellent work.
IMPORTANT! The people listed below have not participated in building MedievaLands, nor have they endorsed this project in any way.
Shadow of Yserbius 1.0
Designed by Ybarra Productions, Inc:
Scot Amos Wendy Barlow Fred Butts
Karl Buiter Sharon Chercowy Mark Dickenson
M.S. Dunhour Roy Eltham Botu Green
Aubrey Hodges Paul Lavelle Russell Lieblich
Mike McAulay Leonard Micko John Miles
Michael Moore Andy Riedel Donna Taylor
Andrew Townsley Joe Ybarra
Special Thanks to Ken Williams and all our
friends at Sierra On-line and TSN